I WON!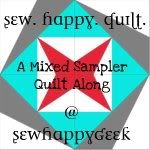 I've been participating in the
Sew Happy quilt along
. I decided to make a quilt for my niece who is getting married this summer. Possible perks of the quilt along were some fantastic prizes. You had to have your quilt top finished by March 15 in order to be entered in the random drawing. I liked the idea that the deadline would help me get the project finished on time.
I'd joined the QAL a little late, but worked hard to get caught up. Grey and yellow are my niece's wedding colors so I thought it would be a nice sentiment to put those colors in her quilt.
(that's my Calvie walking by)
I did get the quilt top finished by March 15 but promptly forgot about the prizes. Until March 19, when I checked my Flickr mail. I see "Sew Happy Quilt - You Won, Girl!" I opened the email and read:
You were the grand prize winner! I just need your name & details inc email addy to pass on for Fat Quarter Shop to give you your $50 gift certificate!
Congrats, you totally deserve it!
Jen :)
This past Saturday, my FQS gift certificate was in my email inbox! I've been shopping ever since then... put stuff in the cart, pare it down, add some more, empty stuff out... shop some more, LOL! Maybe soon, I will decide. Thanks for the QAL, Jenna and thanks Fat Quarter Shop for donating the prize!